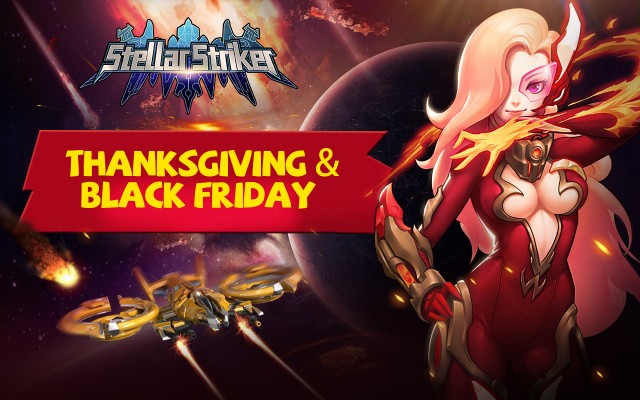 This week, Thanksgiving meets Black Friday in SS. In order to express how grateful the whole team of Stellar Striker has been, a round of surprising events have been prepared on both Facebook Fan Page and In-game Events. New server was launched to celebrate these two big festivals. A big update has been added so as to upgrade the experience.
What's more crazy, not only a great many free materials are sent for players to level up, the team also gives away free fighter with numbers of free diamonds. It's no doubt that this Thanksgiving and Black Friday will be a boom for Stellar Striker Lovers.

From combat to the progression system to the story, players will be fully immersed in an expansive sci-fi universe. Control the most hi-tech space fighters man has ever created and unleash their devastating arsenal as you battle for survival. Travel across dimensions, encounter mysterious races, and master alien technology as you repel the dark invaders and uncover the conspiracy behind it all. Come and join Stellar Striker to start your journey on this Thanksgiving Day and Black Friday.


More information will be available soon, please stay tuned to the official website and Facebook fanpage.
Official Page: http://stellar.gtarcade.com/
Facebook:
https://www.facebook.com/StellarStriker/
YouTube:
http://bit.ly/Stellar-Striker
Forum:
http://community.gtarcade.com/forum.php?gid=3061