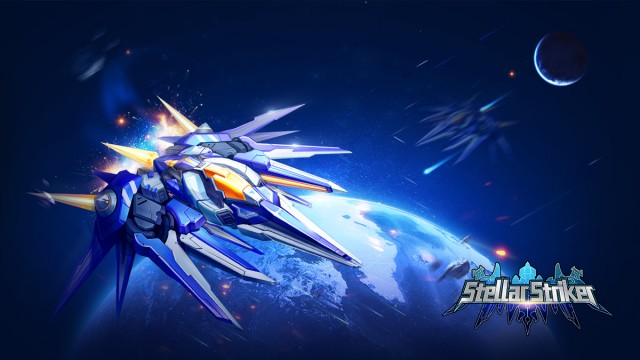 Take to the skies! GTArcade's brand new arcade shoot 'em up Stellar Striker is blasting onto iOS and Android devices! After the launch of their highly successful mobile RPG's League of Angels - Fire Raiders and Spirit Guardian, GTArcade is now storming the shoot 'em up genre with their latest release. Stellar Striker is an action-packed arcade shoot 'em up featuring vibrant graphics and addictive gameplay, and completely free to play! (*Now available for download in Singapore, Philippines, and Malaysia)
Shoot 'em ups have had a long and rich history since the dawn of gaming. From the original Space Invaders to genre classics like Raiden and R-Type, shoot 'em ups have captured the hearts of countless fans. The genre has transitioned from coin-op arcades, to PCs and consoles, and found a perfect home on mobile devices. Stellar Striker inherits the classic shoot 'em up style while taking the genre to a whole new level.
In Stellar Striker, players take the role of an Elite Fighter Pilot defending the last bastion of humanity. Enemies are advancing from all sectors, hell bent on annihilating humans from the universe. Battle rebels, aliens, and far more sinister beings as you repel the invasion and take the fight to the enemy.
Gameplay in Stellar Striker has been finely tuned into the perfect mobile experience. The action is fluid and the touch controls are extremely precise. Stellar Striker is easy to pick up for beginners thanks to the intuitive controls, but offer advanced challenges for seasoned players. Touch-based maneuvering and autofire allows players to concentrate on evading an endless stream of death while unleashing their own barrage of hot lead. As you progress through levels, the difficulty ramps up and players will find their eyes and fingers tested to the extreme.
Stellar Striker is far more than just an arcade shooter. Infusing progression and RPG elements of GTArcade's other titles, players will find a variety of game modes and customization options to explore. Story mode, survival mode, Boss challenges, and more keep gameplay fresh and exciting. The game's advanced Fighters can be enhanced in a multitude of ways. Each unique Fighter has their own style of attack. Find gear throughout your battles and equip and enhance them to power up your fighters into weapons of mass destruction.
Advanced multiplayer features will have players competing and working together with others around the world. Compete against the world to be the top Ace in both Game Center and in-game rankings. Join Legions, the guilds of Stellar Striker, and take on epic raid bosses together with your allies. You are not alone!
More information:

Official Page: http://stellar.gtarcade.com/
Facebook:
https://www.facebook.com/StellarStriker/
YouTube:
http://bit.ly/Stellar-Striker
Forum:
http://community.gtarcade.com/forum.php?gid=3061