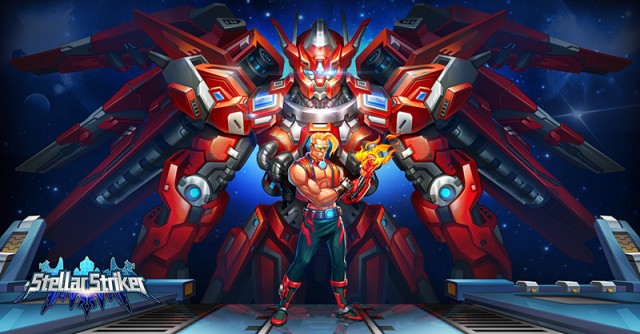 GTArcade's brand new arcade shoot 'em up Stellar Striker is now available in limited regions! The latest mobile title from GTArcade is an action-packed sci-fi shoot 'em up featuring vibrant graphics and addictive gameplay, and best of all, completely free to play! But something players might find surprising is the surprisingly rich story crafted for the game. Below you will find an introduction to the world of Stellar Striker.
The Story So Far...
In the far distant future, humanity is facing its greatest crisis. Their most decorated military commander has launched an open rebellion against his own race. Stealing an ancient relic called the "Unbound Blade", Caeser has opened a gateway to another dimension and awakened the Swarm and their notorious Queen. Together with the rebels and the mysterious Wraiths, the dark Armada has made its way to this dimension with only one objective: Total annihilation of all sentient species.
The dark Armada quickly swept through this dimension, devouring everything in its path. Tempest has now become the last bastion of humanity, but we are not alone. The Spectre and Sul races, the first victims of the marauding invaders, have been driven from their home systems and come seeking refuge. Battered and on the brink of extinction, can this unlikely alliance survive the alien onslaught?
Luckily, the humans have an ace up their sleeves. The second generation of Elite Tempest Fighters have just come off the line. Built with ultra powerful VOID engines, these advanced fighters hold nearly unlimited potential. Now Tempest calls upon its greatest heroes to jump into the cockpit and lead the vanguard!
As an elite pilot and newly appointed Commander of the Tempest strike force, the fate of humanity rests on your shoulders. Do you have what it takes?
More information will be available soon, please stay tuned to the official website and Facebook fanpage.
Official Page: http://stellar.gtarcade.com/
Facebook:
https://www.facebook.com/StellarStriker/
YouTube:
http://bit.ly/Stellar-Striker
Forum:
http://community.gtarcade.com/forum.php?gid=3061